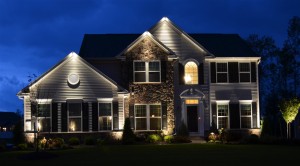 LightScapes of WNY is a family-owned outdoor lighting design business based on core values of quality work and exceptional customer service.
Experience and Qualifications in Outdoor Lighting Design
Owner/Designer Jay Zuppa approaches each lighting project creatively.  He follows your project from initial conception, to design, through installation and final testing to ensure that every phase is planned out and professionally completed.
Mr. Zuppa is experienced and well qualified to meet all of your outdoor lighting needs.  His qualifications include:
LightScapes of WNY outdoor lighting systems are designed to enhance the enjoyment of your property at night.  Our designs provide safety and security while creating a dynamic and pleasing visual experience.
Satisfaction Guarantee
Best of all, our lighting designs are covered by our Complete Satisfaction Guarantee.  Call today at (716) 857-0222 to start on your new lighting design project!