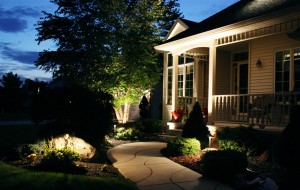 Outdoor lighting maintenance is key to keeping your lighting design running properly and at its highest potential. While extensive warranties on our lighting product lines will provide you with a largely trouble-free lighting system, the seasons still change and plant material does grow (often by a lot!), sometimes blocking elements of the design.  LightScapes of WNY will help by removing extra plant material (within reason) and also by doing checks of the bulbs, lenses, fixtures, and other major parts.
Outdoor Lighting Maintenance Programs Offered by LightScapes of WNY
Annual outdoor lighting maintenance programs allow us to keep up with your lighting effects to ensure the original design stays consistent. Regular maintenance also gives you peace of mind in ensuring that your investment is protected.
Outdoor lighting maintenance programs are offered with every lighting system.  These maintenance programs may include, but are not limited to:
Bulb replacement, including LED bulb replacement
Lubrication of electrical contacts where applicable
Minor adjustment of fixtures for refocusing
Lens cleaning
Trimming and minor pruning around fixtures